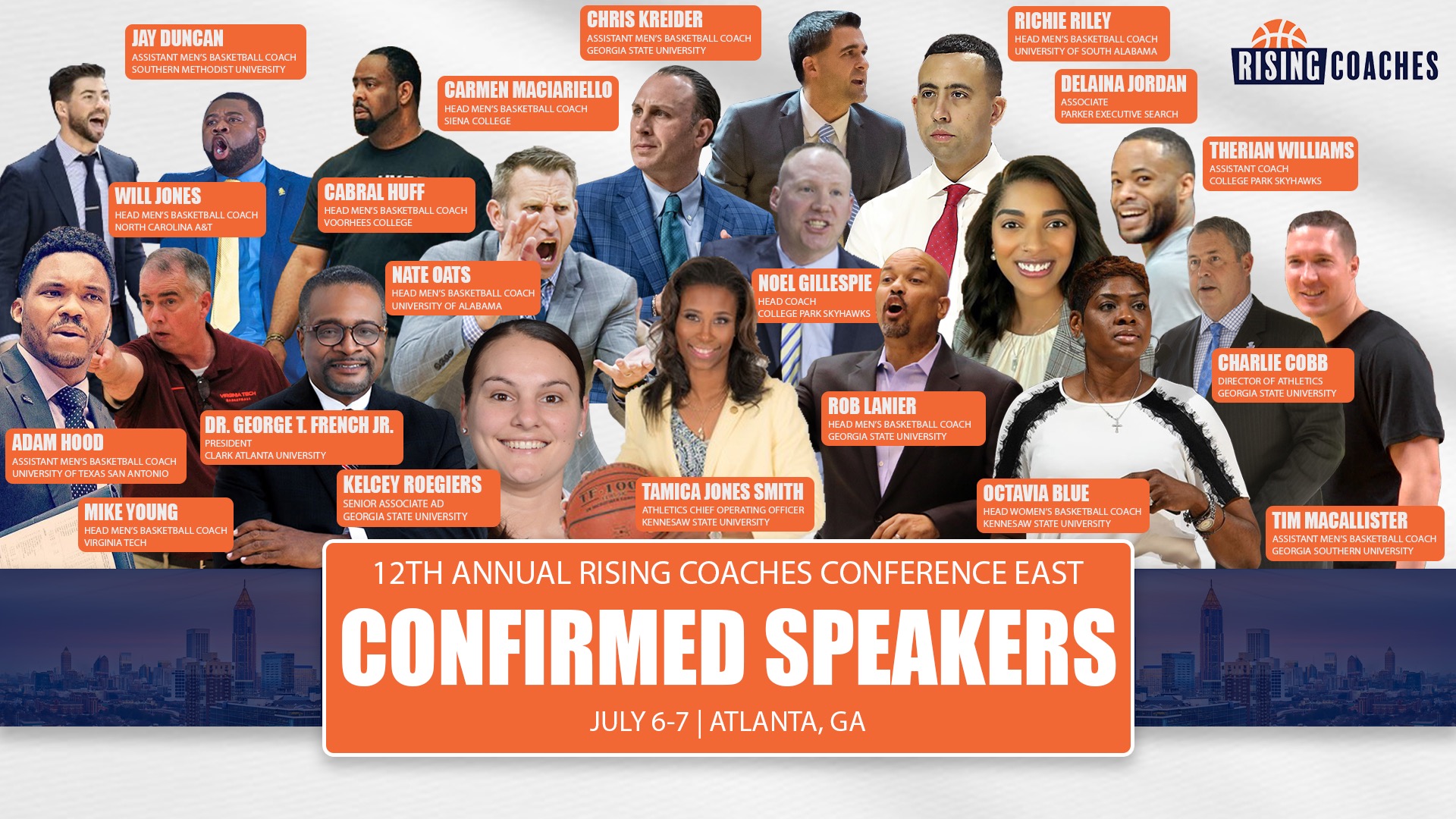 JULY 6TH
3:00PM
Coach Lanier led the Panthers to the Sun-Belt East division title and were the conference tournament runner-up. Lanier was a finalist for the Ben Jobe award in 2021
4:00PM
OCTAVIA BLUE AND TAMICA SMITH JONES
Kennesaw St
Hiring a Head Coach. Octavia Blue was named the head women's basketball coach of Kennesaw St on April 29th. Blue and KSU Chief Operating Officer Tamica Smith Jones break down the hiring process
5:00PM
SPEED DATING
Meet other coaches and attendees
5:30PM
DELAINA JORDAN
Parker Exec Search
DeLaina Jordan discusses the search process, how it works, what she looks for in a candidate and how to get on the radar of search firms and administrators.
7:00PM
HAPPY HOUR AT THE BEVERLY
JULY 7TH
9:00AM
TIM MACALLISTER
Georgia Southern
Lessons Learned - Tim joined Georgia Southern after spending time on staff at Texas Tech where they won a Big 12 Championship and advanced to the National Championship game. Prior to Texas Tech, MacAllister was a part of the staff at Creighton.
10:00AM
THERIAN WILLIAMS
College Park SkyHawks
Player Development - Therian spent the 20-21 season with the SkyHawks after spending the previous three seasons as the video coordinator for the Atlanta Hawks. Prior to his time in the NBA, Williams was on staff at St. Mary's
11:00AM
NOEL GILLESPIE
College Park SkyHawks
Early Offense - Prior to the SkyHawks, Noel Gillespie served as the head coach of the Greensboro Swarm and spent time on staff with the Denver Nuggets and Phoenix Suns.
12:00PM
LUNCH
Hero's Donuts and Burgers
2:00PM
Coach Young just completed his second season at Virginia Tech where he led the Hokies to the NCAA tournament. Prior to Virginia Tech, Young built Wofford College into a mid-major power racking up five SoCon championships and NCAA tournament appearances.
3:00PM
ASSISTANT COACHES PANEL
Jay Duncan of SMU, Adam Hood of UTSA and Chris Krieder of Georgia State
4:00PM
RICHIE RILEY
South Alabama
Richie Riley has turned South Alabama into one of the premier programs in the Sun Belt Conference including a 20 win season in 2020. Prior to South Alabama Coach Riley led Nicholls State to a Conference Championship and earned Southland Coach of the Year honors.
5:00PM
Nate Oats led Alabama to an SEC championship and a sweet 16 appearance this season. His teams have advanced to the NCAA tournament 4 times in his 6 seasons at Alabama and Buffalo respectively.
6:15PM
SOCIAL JUSTICE PANEL
1 Year Later
Darryl Jacobs and Jim Tirey host a panel with Clark Atlanta President Dr. George T. French Jr., Georgia State Sr. Assoc AD Kelcey Roegiers, NC A&T head coach Will Jones, Siena head coach Carmen Marciello, and Vorhees College head coach Cabral Huff
7:15PM
RECEPTION
Join us for food and drinks in the Trophy Room