DEI Alliance Announces 2022 'Next Up' Participants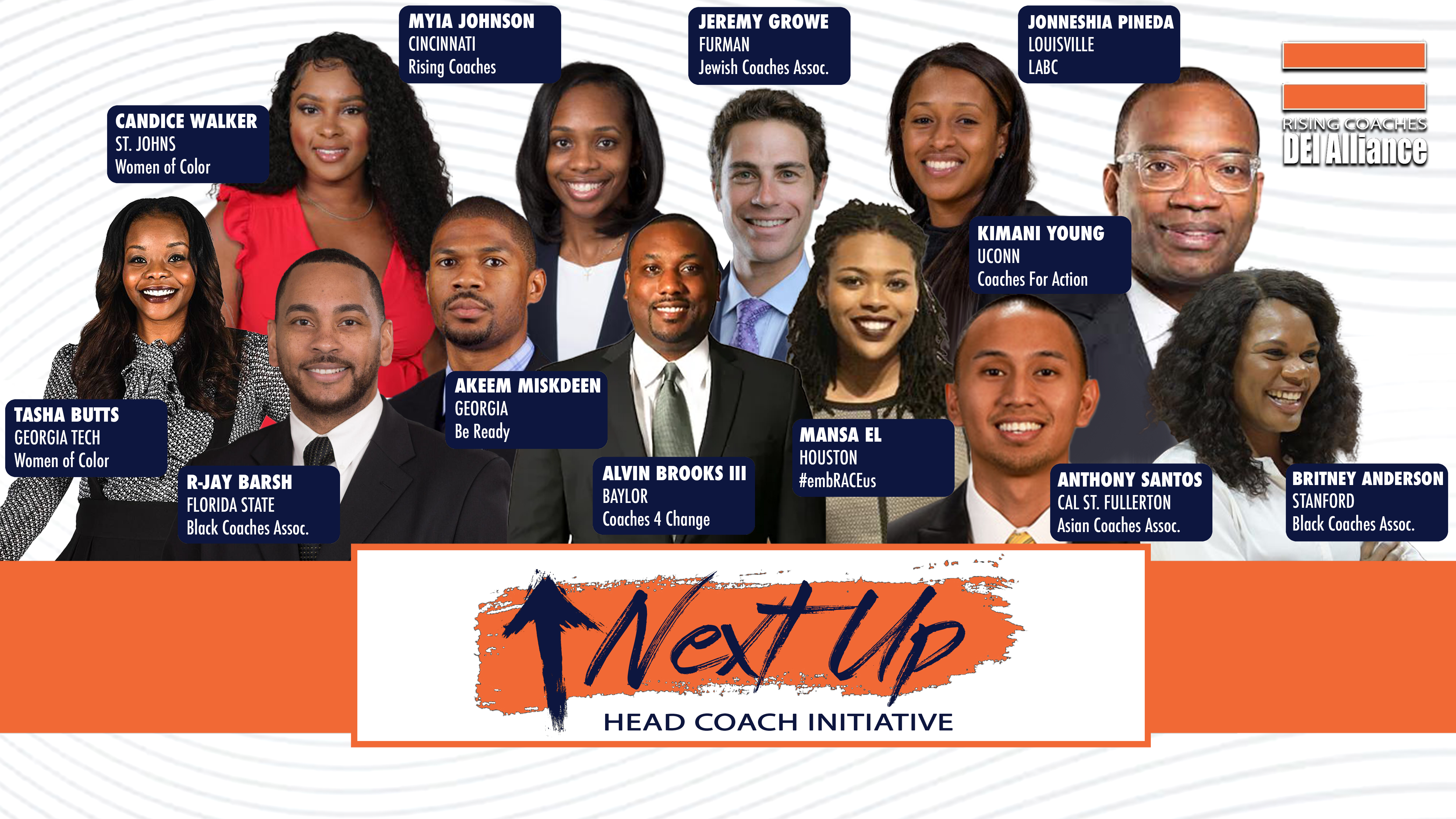 Birmingham, AL. The Rising Coaches Diversity, Equity and Inclusion Alliance is pleased to announce the finalists for its third annual "Next Up" Head Coaches Training Initiative. The finalists for "Next Up 2022" are as follows:
Britney Anderson – Stanford – Black Coaches Association
R-Jay Barsh – Florida State – Black Coaches Association
Alvin Brooks III – Baylor – Coaches 4 Change
Tasha Butts – Georgia Tech – Women of Color Coaches Network
Mansa El – Houston – embRACEus
Jeremy Growe – Furman – Jewish Coaches Association
Myia Johnson – Cincinnati – Rising Coaches
Akeem Miskdeen – Georgia – Be Ready
Jonneshia Pineda – Louisville – Latino Association of Basketball Coaches
Anthony Santos – Cal State Fullerton – Asian Coaches Association
Candice Walker – St. Johns – Women of Color Coaches Network
Kimani Young – UCONN – Coaches For Action
So far, four alumns from the Next Up Initiative have gone on to receive head coaching jobs, including Ben Johnson at Minnesota (Coaches For Action), Ganiyat Adeduntan at Colgate (Women of Color Coaches Network), Surina Dixon at Lane College (Women of Color Coaches Network) and Jason Hart of the G League Ignite (Black Coaches Association).
The 12 member organizations who make up the DEI Alliance each nominated two coaches to represent their groups. Of the nominees, 12 coaches were selected by a DEI committee to participate in the Next Up Training Initiative in late October.
"Thank you to all the organizations and the nominees. They all presented themselves exceptionally well and have bright futures as head coaches," said Darryl Jacobs, Executive Director for the Rising Coaches DEI Alliance. "I commend the DEI staff of Kym Hampton, Brian Burton and Adam Gordon for their hard work and commitment in the selection process."
The DEI Alliance partners with a different search firm executive each year to help facilitate "Next Up." This year's Next Up workshop will be led by Senior Associate for Parker Executive Search, DeLaina Jordan.
"In order to develop deep and diverse pools of candidates for our client's consideration, we, as consultants, have to be intentional in continuously developing a diverse network of our own," said Jordan. "Partnering with the Next Up Initiative provides a great platform for me to connect with the rising stars of our industry, in particular those from underrepresented groups, while also helping them to develop a better understanding of one of the more integral parts of the search process – navigating the interview."
The DEI Alliance is made up of 12 different minority coaches and social justice organizations. Their mission is to use their platform as leaders in sports to impact change in the profession and their communities. For more information, visit www.risingcoaches.com/DEI-alliance
Rising Coaches is an inclusive membership-based organization for coaches of all levels. They provide relationships, resources and job opportunities to their 1,500+ members. For more information, visit www.risingcoaches.com