Student Managers Carve Path Into Coaching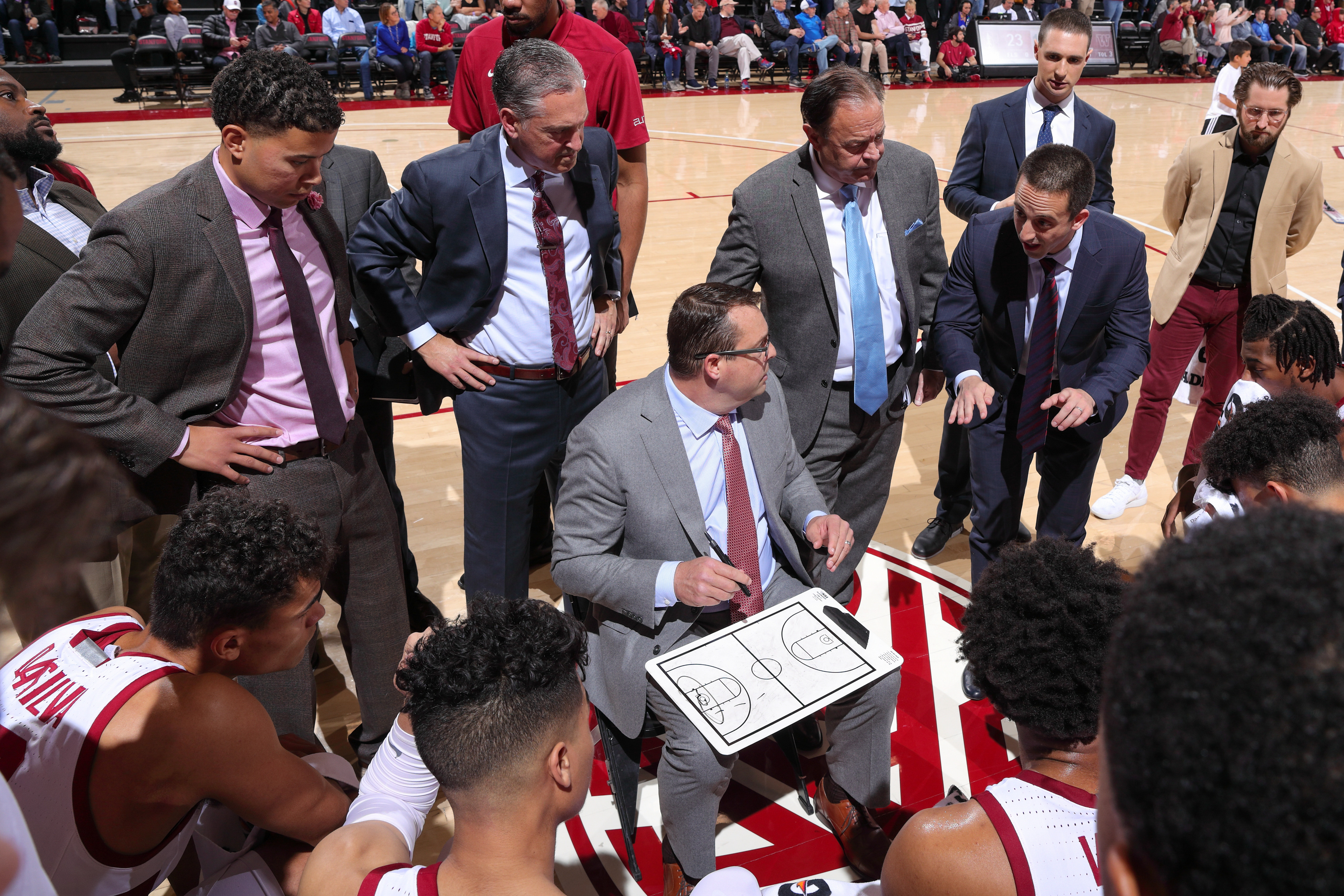 Patrick Ewing, Johnny Dawkins, Bobby Hurley, and Tony Bennett among others all got their start as a head coach in college basketball after an illustrious playing career. However, that's not the case for most coaches.
In fact, some of the most accomplished big whistles in the game today like Mark Few and Scott Drew never played at the collegiate level. It leads to a realization that there's a number of different paths to enter the profession.
"It tells you that playing at
the highest level is not the most important thing," said Stanford assistant coach Adam Cohen. "It's working at your craft, learning the game, learning how to communicate, learning how to build relationships, learning how to motivate, studying the game, finding what's best for your team."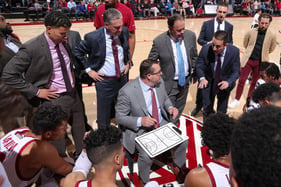 "There's chances to grow and chances to get there," added Stephen F. Austin assistant coach Mitch Vanya. "You have to make the most of your opportunities and bust your tail to get there. There's always somebody knocking on the door right behind you."
Both Cohen and Vanya took the path less traveled into the coaching profession with humble beginnings as student managers in college.
A conversation with a high school history teacher sparked direction into Cohen's life. From that point forward it created a drive wholeheartedly focused on becoming a Division I head coach.
"From there, it went to the place where I ended up writing letters to every college coach in the country my junior year of high school," Cohen said. "I got a bunch of letters back and a couple phone calls. One of the big phone calls was from Josh Pastner, who at the time was an assistant from Arizona."
Cohen tried his hand playing at the Division III level for Hobart College, but quickly understood it wasn't for him. Over the years he kept the relationship with Pastner who brought up the idea of coming out as a student manager. Cohen arrived and met with the staff, helped run some summer camps, and found himself as a manager for one of the premier programs out west.
"I knew I needed to find some way into the coaching realm," Cohen said. "I didn't really have any in. My parents did not work in athletics. I needed to find some way in. You hear stories with Josh Pastner all the time where he ran his own scouting service at a really young age and ended up earning a walk-on spot at Arizona. It was absolutely encouraging to me as I was trying to find my own path."
It's a similar story for Vanya who sought out his own playing career at Division III Adrian College b
efore realizing he 'ran out of talent pretty quickly.' Vanya headed back home to College Station and connected with a high school teammate who was a student manager for Texas A&M.
The Aggies were just coming off a Sweet 16 appearance under the tutelage of Billy Gillispie and starpower of Acie Law. Following the season, Gillispie left for Kentucky leaving a void at Texas A&M. Vanya arrived during this summer and volunteered at the camps before Mark Turgeon was hired.
"I was fortunate to stay on under Mark Turgeon's staff and quickly rose the ranks there," Vanya said. "Beca
me head manager my second year and was a grad assistant for grad school my last two years there. That's how I kind of got into it. I wore many hats as a manager. Obviously you have the part of rebounding for the guys and being there to help out whenever they need to be on the floor. I got involved on the video side of things. I became the assistant video coordinator those years there. I was in charge of the equipment… I did a lot of different things."
These were the formative years for Cohen and Vanya where they saw the ins and outs of coaching at the highest level. The manager position served as a launching pad into the career as both now understood what it took to be in the profession.
"I think it's the best preparation anyone can have for this," Cohen said. "Obviously as a player you get a different perspective, but I think as a manager you see both sides of the coin. For me, it was amazing the organization, the detail, and the accountability that coach [Lute] Olson had… It was just an unbelievable sense of, 'Woah, this is big time basketball.'"
"You learn a ton," Vanya said. "You realize how much you truly don't know about the game… It was high level - high-level athletes, high-level program, and just being able to learn from them was the biggest thing.
"You're getting thrown in there, you're involved in drills, so you're getting to learn truly how to play the game. With the video side of things you learn a ton just by listening to the coaches and how they coach. That would be the biggest thing for me."
After some time spent as a grad assistant, video coordinator, and director of operations, Cohen landed his first coaching position as an assistant at Rice for the 2012-2013 campaign. In the lead up to this point of his career, Cohen kept the values from his time as a manager close to his chest.
"When I was manager I would do anything and everything," Cohen said. "I would stay around the office until the coaches were gone just to see if I could pick anything up from them or if they needed any help with anything related to mail outs or breaking down film or rebounding for them as they're working out with a player. If guys wanted to stay late at night, I would come and be there for them and rebo
und for them.
"It was kind of just really consistent in my effort where they knew if they texted me or called me I'd be there to be at the gym whenever they needed me. It was kind of just proving I'm reliable. I was working and trying to get better at learning how to become a coach."
The many hats that Vanya wore as the head manager paid off in the long run, too. When his four years in C
ollege Station came to a close, Vanya parlayed his experience into a gig in the NBA with the Houston Rockets as an assistant video coordinator.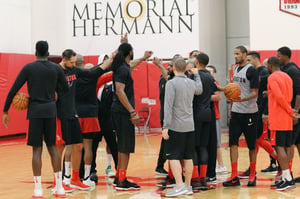 I don't think I realized it at the time how much it would help me in the long run to have that experience and to have learned from those coaches and just to be around it," Vanya said. "As time went on and my last year as a grad assistant, at that point I was shooting for the stars and trying to land in the NBA with an internship. As time went on, I realized more and more what I wanted to do."
Vanya had a pit stop back at Texas A&M for a season before returning to the Rockets. Over the span of 2014-2019, he'd seen his role shift from video coordinator to assistant coach for advance operations in Houston.
The Rockets never missed the playoffs in any of those last five years with Vanya on staff. He's been surrounded by some of the best players in the world, including two of the biggest tacticians in the game, James Harden and Chris Paul.
"As a young coach or being around guys who are hall of famers, I'm learning from them more than anything," Vanya said. "Listening to them, getting their input, sometimes I agree with them and sometimes I don't. That's where being on an NBA staff, communication is vital amongst the staff and it's vital amongst the players.
"I was in the league for seven years, and I never got too comfortable, but there was a comfort level reached. You have to constantly remind yourself of how hard you did work to get to that point. Because the reality is, is that there's always someone right behind you willing and able, especially in basketball, eager to take your spot. You have to discipline yourself and keep that mindset of, 'I'm going to work as hard as I can and try to work harder than anybody.'"
Meanwhile, Cohen has risen the ranks as an assistant at Harvard and Vanderbilt before arriving in Palo Alto for the 2016-2017 season where he remains today. The National Association of Basketball Coaches named Cohen to the 30-under-30 Team in 2016, honoring the top assistant coaches across the country.
"Moving forward, my dream is to become a Division I head coach," Cohen said. "It's been my goal since I was 17 or less than that, maybe 16. Day in and day out there's so many things that I learn that can help me. You can also look at how you did things wrong in the past to grow.
"That's one thing about this pandemic is that I do know I've gotten better as a coach. I've gotten more prepared to become a head coach. I've gotten more prepared to help our Stanford team win more games moving forward in any way that I can. I am definitely judging myself on that over the last few months and not trying to have a negative attitude about where we're at."
Cohen and Vanya have both established themselves as grinders in the business. Each has taken the arduous journey to where they are today. It's not about the glitz or the glamour or the money, but it's singularly focused beyond themselves and into the lives that they can impact as coaches.
"I believe that wherever the good Lord takes me is my mission field," Vanya said. "To be able to have an impact on people's lives no matter where I'm at. At the end of the day, yes you want to win, yes you want to win a championship and you want to win at the highest stage possible and be a head coach. That's the basketball side of things, but ultimately, as is anything in life, it's about relationships."
"My why is pretty simple, it's to help my players achieve their dreams," Cohen said. "I say that to every recruit that I talk to. I want to be a part of you reaching your goals and dreams. If I can help in any way to get you there then I've done my job and I feel really good about it. I'm competitive as you can imagine. Just driven to guide guys and help guys and teach guys, but also driven to win."
Cohen is still awaiting that head coaching call and Vanya is eager to one day make it back to the NBA or G League. It's a beautiful story that's still waiting to be written, exhibiting that the foundation has been laid for student managers across the country to enter the industry.