14th Annual Rising Coaches Conference Coming to Las Vegas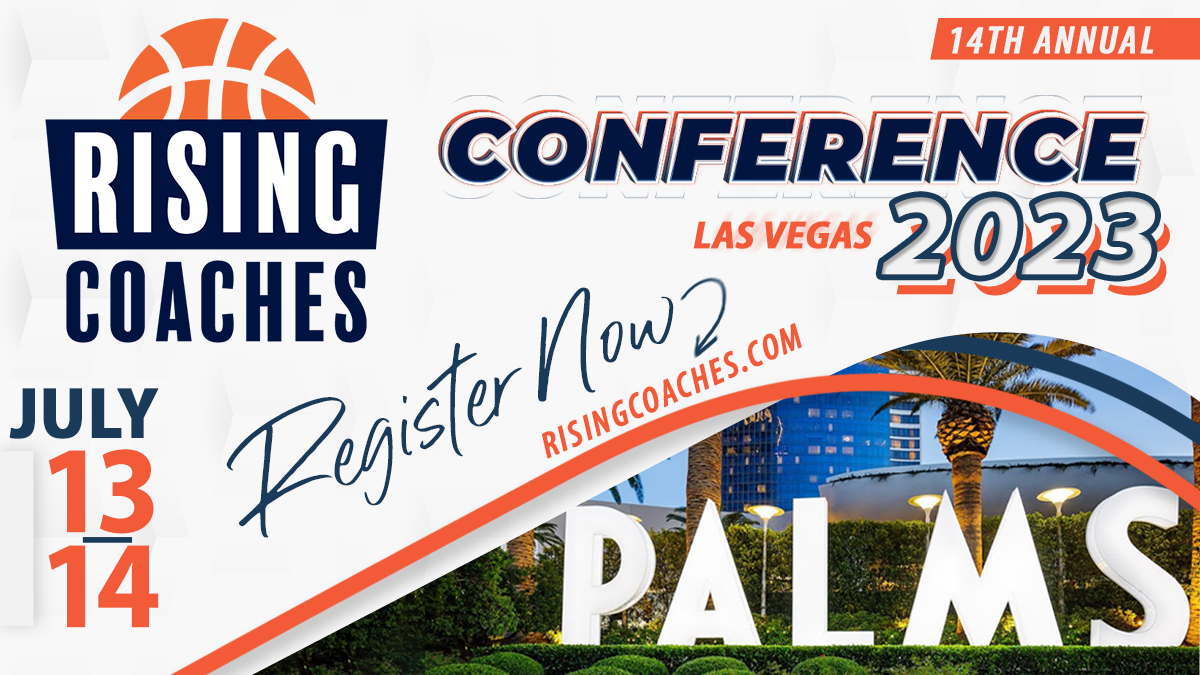 Rising Coaches is excited to officially announce that the 14th annual Rising Coaches Conference will be held at the Palms Casino Resort in Las Vegas, Nevada from July 13-14. It will be two days packed of speakers, networking and growing the basketball community.
"Im so excited to have the Rising Coaches Conference back in Vegas where it all started," Rising Coaches Co-Founder Adam Gordon said. "Never before has the basketball community seen the Rising Coaches Conference, AAU basketball, NBA Summer League and the WNBA All-Star game all overlap in the same place at the same time. Las Vegas will truly be the epicenter of basketball."
Previous locations of the conference have been in Chicago, Phoenix, and Atlanta during major AAU events, but with this year's location it is expected to be one of the biggest turnouts since 2009, when the first conference was held.
""The Rising Coaches Conference is the best place for coaching professionals to connect & develop," Rising Coaches Co-Founder Brandon Rosenthal said. "Hard to believe it's the 14th annual conference. This years will be as strong as any we have had too!"
Rising Coaches is also excited to announce a stacked lineup of panelists and speakers:
Damon Stoudamire, Georgia Tech
Paul Biancardi, ESPN
Jason Hart, NBA G-League Ignite
Kimani Young, UCONN
Alvin Brooks III, Baylor
Adam Cohen, Xavier
Jenny Boucek, Indiana Pacers
David Velasquez, San Diego State
Corey Gibson, Austin Peay
Rushia Brown, Former WNBA Player
Cody Toppert, Louisiana State
Kevin Sweeney, Sports Illustrated
Jareem Dowling, Kansas State
Cody Hopkins, JUCORecruiting.com
Ani Umani, BallIsLife & #ISOAni Series
Demarlo Slocum, Utah
Brandon Rosenthal, Rising Coaches Co-Founder
Jimmie Oakman, NBA G-League
"I'm super excited to be speaking at next month's Rising Coaches Conference," Sport Illustrated's Kevin Sweeney said. "(Rising Coaches) is such an important organization that is helping the next generation of great coaches grow."
The conference will be a mix of keynote speakers and panels made up of the speakers from above. There will also be opportunities to network throughout. The schedule is as followed:
July 13th
6:00pm - Doors Open/Registration

6:45pm - Welcome Remarks

7:00pm - Keynote Speaker

8:00pm - Speaker / Panel

9:00pm - Happy Hour


July 14th
9:00am - Speaker / Panel

10:00am - Speaker / Panel

11:00am - Speaker / Panel

12:00pm - Lunch Break

1:30pm - Speaker / Panel

2:30pm - Speaker / Panel

3:30pm - Break

3:45pm - Speaker / Panel

4:45pm - Speaker / Panel

5:45pm - Speaker / Panel

6:45pm - Closing Remarks

7:00pm - Networking Social
"The Rising Coaches program is a tremendous concept," ESPN recruiting analyst and conference speaker Paul Biancardi said. "I'm looking forward to meeting all the aspiring coaches at their conference in July."
The topics for the panels will include:
Becoming a Head Coach, Establishing a Culture & Navigating Basketball in Today's Landscape
Advanced Offensive Concepts in Today's Game
How an Elite Defense is a Difference Maker
Women Making a Difference in the Game
Player Development & Player Connection Panel
High Level Culture, Relationships & Recruiting
The Portal, NIL & Recruiting in Today's Landscape
What it Takes to Win a National Championship
"I get excited every year for the conference," said Rising Coaches Co-Founder and newly hired Siena Assistant Coach Andy Farrell. "It's always fun to listen, learn, and connect with other people in the industry. These conferences have been awesome for development and the opportunity to build meaningful relationships that can benefit your journey in coaching."
The price of the conference is $125 for members and $175 for non-members. You can register by using the link: https://www.risingcoaches.com/rcc2023
----
About Rising Coaches:
Rising Coaches is dedicated to empowering, educating, and supporting basketball coaches at all levels. The organization was founded in 2010 and has since provided numerous opportunities for coaches to develop their skills and advance their careers.
Contact:
Brian@risingcoaches.com
For More information visit
www.risingcoaches.com