DEI Alliance Taps into resources to help prepare another wave of Head Coaches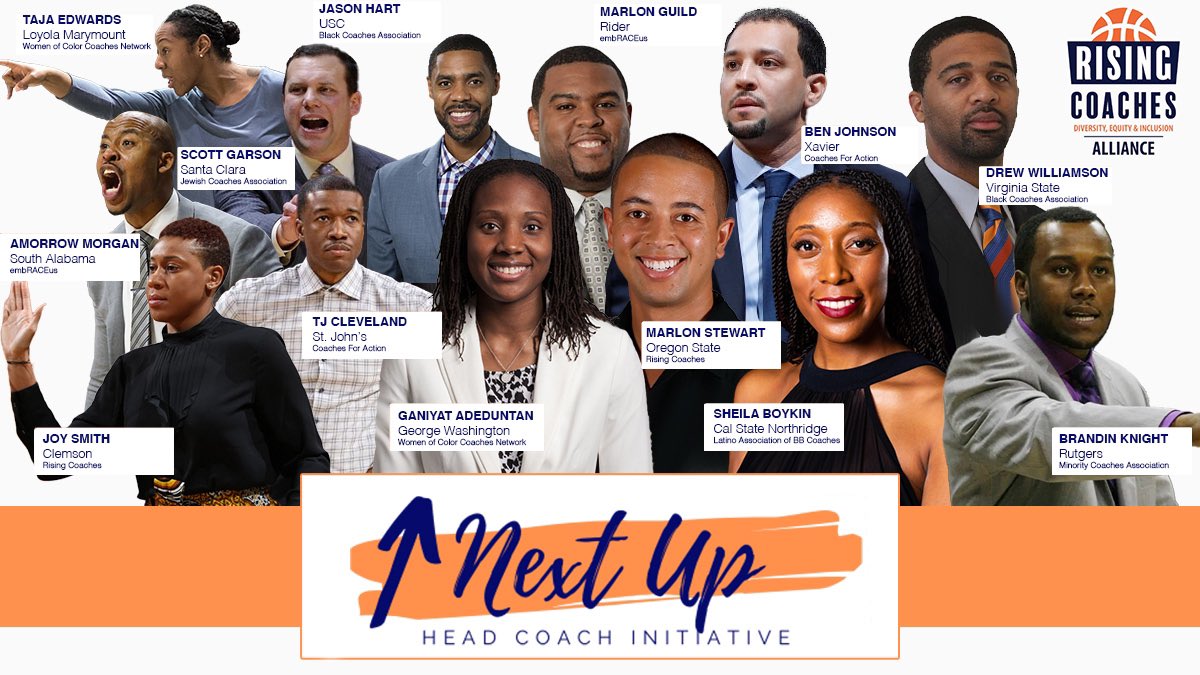 Xavier men's assistant coach Ben Johnson recognizes the need. The majority of men's and women's scholarship players across the country are Black yet these teams are largely led by white head coaches.
Johnson worked his way up to his current role at one of the major basketball programs in the Big East, but he knows his influence doesn't just stop there. There's a whole batch of minority newcomers waiting in the wings just like him. His work ethic and acumen as a coach can pave the way for more Black coaches in college basketball.
"For me, especially being a younger Black assistant coach. Having the representation and the platform to get my message out so that ADs, presidents and search firms understand there are quality minority candidates out there," Johnson said. "It's not just me. But there's others who are like me that have grinded. They have been in successful programs and understand how to run a program, how to take that next step. It's not just getting these jobs. But getting the jobs and being successful at them so that can open doors for other people."
George Washington women's assistant coach Ganiyat Adeduntan is fully aware of the problem as well. For many minority basketball coaches today, it's a multitude of extra efforts that they have to put forth to bridge the gap. More than ever, there's a need for representation in the sport.
"There are women of color athletes," Adeduntan said. "It's nice for them to see themselves in their coaches. Now they can see just by looking at you what they could potentially be. Representation is important. Not only from the head coach, but it's important for the assistants to have representation as well. Representation not just by race, but in skill set, what you're able to bring to the table, gender, etc. You want your players to feel like they can embrace and connect and relate as much as possible."
Darryl Jacobs and Rising Coaches Diversity, Equity and Inclusion Alliance took note of this growing issue in the game and launched the "Next Up" Head Coaches Initiative back in December. The DEI gathered Adeduntan, Johnson, and 10 other top minority assistant coaches in the game to participate in a workshop with the renowned sports search consultant, Katy Young Staudt.
"Similar to basketball coaches training young players to shoot free throws," Staudt said. "You can't just go up to the line and make it the first time. You have to get reps. You have to practice. You have to know the BEEF. Balance, eyes on target, elbows in, follow through. You have to know all techniques in order to make shots. It's an art!
"It's the same with interviewing. Practice makes perfect. My vision was to take 12 of the top assistant coaches in the country and train them how to knock an interview out of the park," added Staudt.
For the workshop, all 12 coaches were given an actual school ahead of time that they would be interviewing for in the mock simulation. They had to study the background of the school and the athletic director. They were also given the key constituents who would also be in on the interview.
"It wasn't a generic, 'Hey, this is a mock interview. Ask a bunch of canned questions.' They had to make their answers specific to that particular role that they were interviewing for," Staudt said. "That's the biggest thing that people miss is being specific to with whom you are interviewing."
"I've done a lot of different professional developments in the past and it's more so hypothetical when it comes to mock interview questions. But for this one you actually had to do homework on a certain institution," Adeduntan said. "Being able to dive in fully to get myself immersed on how I felt like I could potentially fit is something I'll be able to utilize for future possibilities. Being able to do all that homework because I'm really big on being prepared."
Staudt sent each finalist 40 questions that she had previously asked in real head coaching interviews before for each candidate to prepare. When the time came for the actual interview, Staudt broke the 12 finalists into four pods with three coaches in each pod.
Each mock interview consisted of an introduction from the coach and five questions that were asked. It gave each coach the chance to sell his or her vision for the program. In between each question, Staudt would provide real-time feedback. He also asked for comments from the other two coaches.
"It was great to get Katy's feedback," Johnson said. "She's been through this a million times and has seen good and bad. When she stamps what you're talking about and what you're about, it's definitely a good moment and a good feeling.
"I think anytime you can practice and work on that, it's awesome. Definitely the interviewing part and being able to go through that and be pelted by different questions, but also forcing yourself to prepare for a job and prepare to get your mind to think that when I'm in a room or when I have the opportunity what am I going to do to move forward and kill it," Johnson said.
At the end of the 12 interviews, Staudt walked away thoroughly impressed with the work and dedication that each of the finalists had put into a job interview that was set up for real-time preparation.
"You've got to throw them in the fire," Staudt said. "This is game day. If you're nervous in front of me, you're sure to be nervous in front of a search committee. Getting all those nerves out and just being able to help them was extremely rewarding. These coaches took the exercise very seriously. The preparation that went into the exercise by each coach was extremely impressive. The interview was for a fake job. These talented individuals took the time in the middle of their seasons to be on a 9 p.m. Zoom call for two hours with me and two other coaches in order to get better."
Adeduntan has been a head coach before at Wheelock College, a Division III College in Massachusetts and moved up in the profession to an assistant at Northeastern before settling at George Washington where she's been the last four years. This opportunity for Adeduntan wasn't just about what the future may hold as a head coach, but also the resources she now has with Staudt and the other coaches in her pod, along with what she can apply to her current position.
"One of the things that any type of professional development does is it connects you to all types of people," Adeduntan said. "I understand that this business is about relationships and networking, but truly building real relationships to be able to connect with people. I think about some of the questions that were brought up in the training. I want to make sure when those questions are asked that I'm doing those things now."
Meanwhile, Johnson has climbed the coaching ladder as well, making his mark at a number of assistant spots along the way before finding himself at Xavier in 2018. He realizes that his future in coaching is about so much more than just himself. As aforementioned, he wants to be a beacon for other young Black coaches like himself.
"Obviously we're all competitors as coaches so you want to win," Johnson said. "It's in your competitive nature and it's in your heart and it's what we love to do, but we also want to win as an example. It can open doors for other people and you can kind of pay it forward. That's a big takeaway for me. It's not just competing and getting to live out my dream of being a head coach and being successful and developing young men, but to do it the right way so I can open the door and pave the way for other guys like me that are anxious and eager and deserving to be a head coach in waiting."
The "Next Up" Head Coaches Training Initiative was a smashing success. It was an opportunity to showcase the impressive nature of these minority coaches and the importance of representation in coaching. Furthermore, one of the most influential people in college athletic hirings now has a list of 12 minority candidates who she can vouch for when the right fit arises.
At the end of the whole process, Staudt is confident knowing the game is in good hands with these up and coming coaches.
"They are the up-and-comers. The earlier you learn this stuff, the better off you are," Staudt said. "Just seeing all the coaches and feeling their passion, drive, and willingness to humble themselves and take constructive feedback proves that this exercise worked! There is a tremendous pool of assistant coaches who are ready to take the next step and run their own programs. I'm just honored to have played a small part in their journey."